Departement Dr^me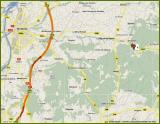 Discover the wonderful countryside of Drome Provencale and relax in a calm old farmhouse in the valley of Dieulefit, surrounded by lavender and sunflower fields.
Situated near the medieval village of Poet Laval, one of France's most beautiful villages and 10 km from Dieulefit, well known for its pottery and handycraft.
The lovely restored farmhouse includes our ceramic studio and showroom and down by the river we offer two nice guesthouses.